The Concourse – A City Within A City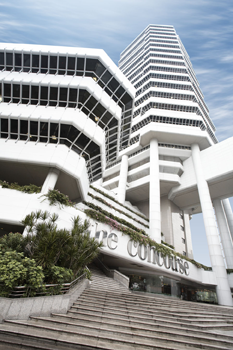 The Concourse is a 41-storey office tower located at 300 Beach Road, in the upcoming Marina Bay Financial District.

Designed by renowned architect Paul Rudolph, The Concourse stands out as a distinctive landmark from afar due to its remarkable design, with its exceptional use of glass and angles. He has created a building literally caressed by light, allowing you to enjoy Singapore's horizon from any vantage point. It is also octagonal in plan, as the number "8" for the octagon is associated with prosperity in Chinese culture.

The Concourse is a visually stunning yet completely functional building, offering tenants flexible floor layouts at a prestige location. It has a spectacular 5-storey atrium lobby, one of the grandest in Singapore. With a unique and unconventional building design, it can also cater to your various needs.